Cocktail Hour Hors d'oeuvres To Get Your Wedding Guests Talking
The wedding ceremony was perfect. And the reception is going to wow and awe your guests. However, in between the ceremony and reception, you have an hour to set the tone for the occasion. In addition to unique cocktails, the guests are going to need sustenance to make it to the party. No one wants drunk and hungry guests at their affair. Impress your guests with hors d'oeuvres that make a statement.
The key to any wedding is personalization. You want your guests to feel the love that is your marital union. When choosing happy hour hors d'oeuvres, think about food that you and your partner enjoy. Consider the vibe you want to set. Cocktail hour can be casual or laid back. Hors d'oeuvres can be one type of cuisine or varied. Use the following ideas as inspiration to make your special day uniquely yours.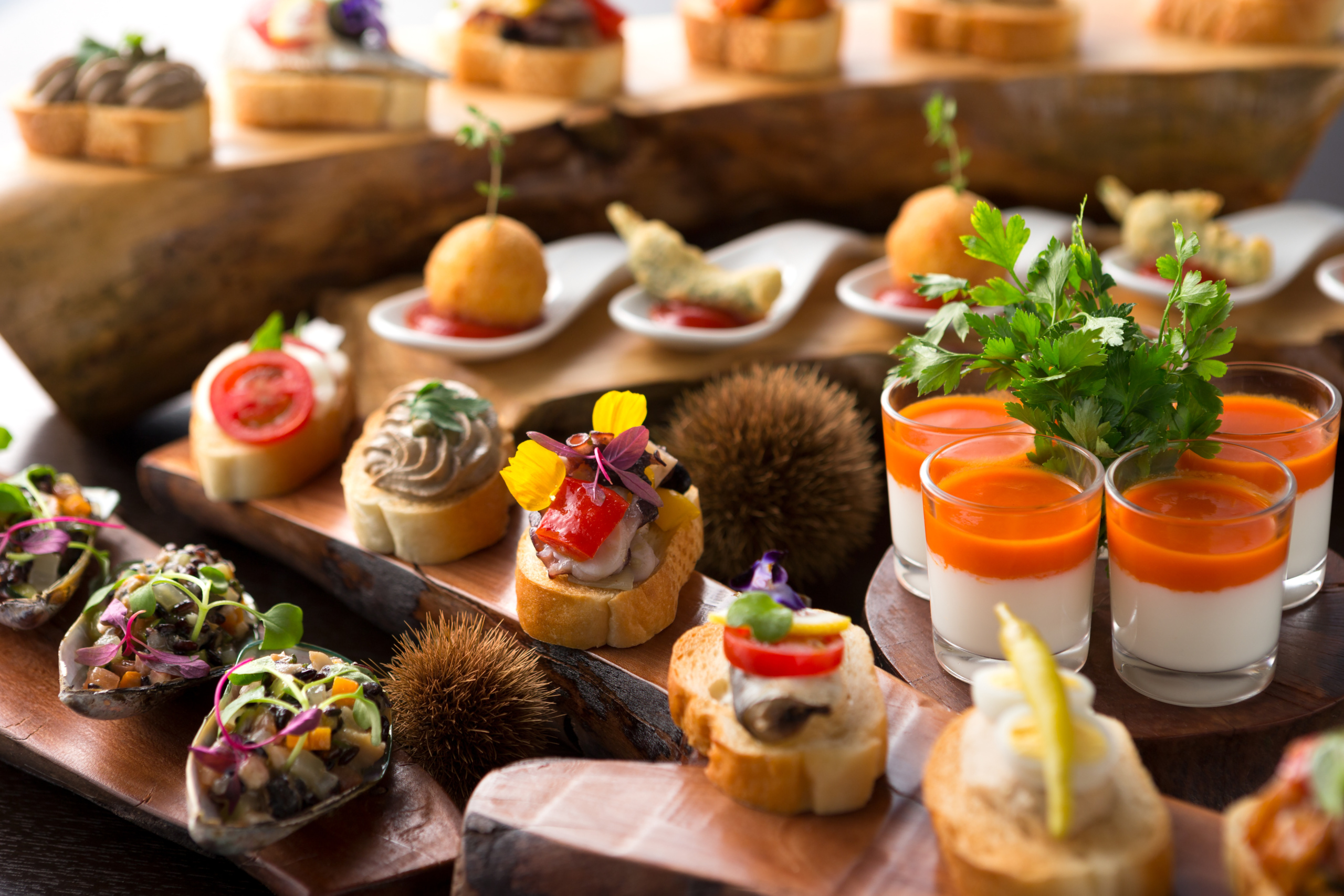 Creative Presentation
When planning your wedding cocktail hour hors d'oeuvres, throw out the rulebook. Nowadays, unique is in style. Wow your guests with presentation. Traditional hors d'oeuvres can be made spectacular with the right presentation. For example, if you and your partner love macaroni and cheese, ask your wedding planner about including mac and cheese lollipops on a stick. For more sophisticated mac and cheese, include truffle or different varieties of cheese. Another original idea is to create a mac and cheese bar for your guests to personalize their plate.
Other creative elements could be personalized skewer tops or toothpick tops. Perhaps the chef has ideas for an interesting garnish or unusual serving tray. The sky is the limit when it comes to creativity. Seasonal or edible flowers brighten a serving dish. Other options include serving the hors d'oeuvres on a spoon, on a clam shell, or even in a coconut. Still, you may wish to pair specific hors d'oeuvres with certain wines or cocktails for the ultimate cocktail hour tasting.
Food Truck
If individuality is what you desire, a food truck cocktail hour may be right for you. Wedding planners will be able to find a food truck that fits within your theme, budget, or specific taste. Some food trucks specialize in one cuisine, while other are more eclectic. Food truck cuisine can be quite casual or made fancy to fit your desires. An interesting outdoor cocktail hour idea is to have many food trucks on site to give your guests a taste of everything. Additionally, your wedding planner can ensure the food truck set up looks sophisticated and aligned with your wedding theme.
Thematic
Another way to impress your wedding guests is to keep the cocktail hour hors d'oeuvres consistent with the wedding theme, colors, and overall vibe. If your wedding is an elegant affair, you could serve oysters, tuna tartare, or other delicate bites along with champagne flutes. For a casual happy hour, include tasting glasses for beer accompanied by classy sliders. If playful is your vibe, fancier versions of fair food may interest you.
The best thing about cocktail hour is the socializing, the eating, and the drinking. Think about food and cocktails that you and your partner enjoy. Your cocktail hour should be representative of the love that you share with one another and with your guests. Unique and personalized cocktail hour hors d'oeuvres will set the tone for the reception to follow.