How To Make the Most Out of Your Fall Wedding
Fall is the most popular time of year for weddings! If you are planning your wedding during the gorgeous autumn season, we are here to help you make the most of your fall wedding. From decor to cocktails, this guide will inspire you to fully embrace the season's beautiful hues, tastes, and cozy feel to create a dreamy wedding experience for you and your guests.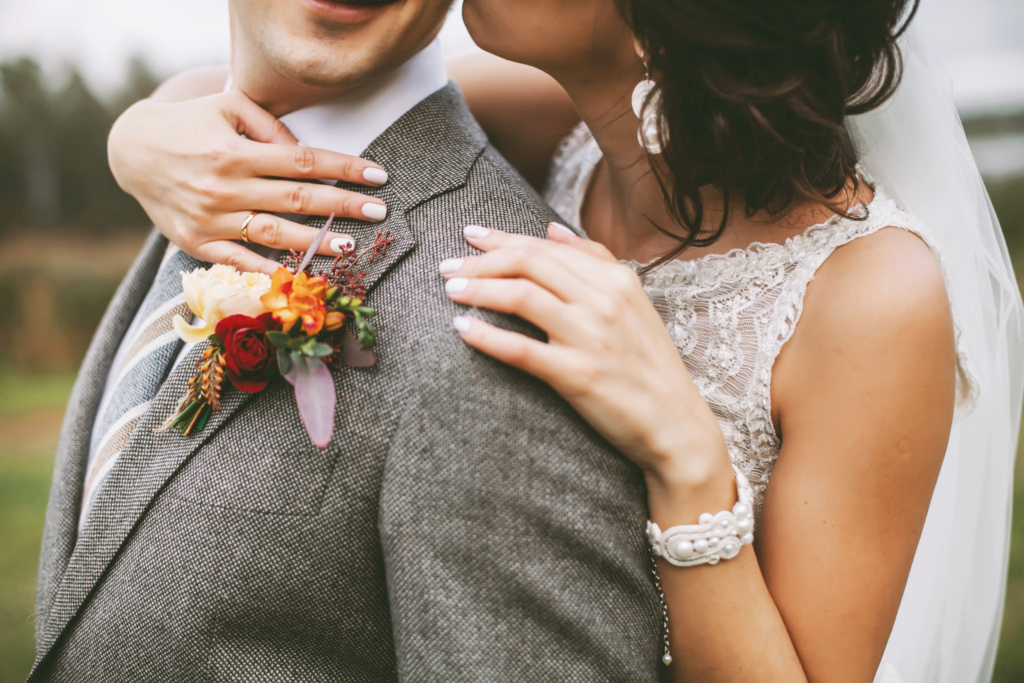 Embracing a Fall Palette
Autumn is naturally filled with an array of vibrant colors! It is a perfect season for a beautiful wedding. Some popular colors that capture the essence of fall are burgundy, burnt orange, and mustard yellow. When organizing your wedding, you can effortlessly incorporate these colors into elements such as dresses, table settings, floral arrangements, and other decorative details. To create a seasonal atmosphere from the start, consider adding touches like autumn leaves or rustic elements like twine to your wedding invitations.
Fall Decor Tips
A fall wedding offers a bounty of decor options, including outdoor settings with a beautiful backdrop of colorful trees and cozy indoor environments. An outdoor wedding eliminates some decor decisions by providing natural, vibrant foliage. Indoors, you can use natural decorations like pumpkins and leaves to enhance your fall wedding feel. Warm lighting from candles and fairy lights helps create ambiance and add an element of curated coziness to your event.
Fall-inspired Cocktails and Beverages
Enhance the ambiance of your autumn wedding by serving fall-inspired cocktails and beverages. Create signature drinks infused with flavors, like pumpkin spice or apple cider to keep your guests immersed in the spirit. Additionally, consider offering comforting, warm, nonalcoholic options like tea or hot chocolate. Collaborate with your caterer to select wines and spirits that complement your autumn-themed menu, further embracing the essence of the season.
Fall Wedding Attire and Cozy Comfort
Curate your wedding attire by selecting the right fabrics—typically lighter fabrics for early fall and thicker fabrics for late fall. Another idea is to add layers like a bolero or weather to stay comfortable in cooler temperatures as the day progresses. Plan for your guests' comfort by providing blankets and heaters for outdoor areas.
Fall Activities and Entertainment
Providing guests with autumn-themed entertainment and activities will create an enchanting, memorable event. Ideas include pumpkin painting stations, scenic hayrides, and tailoring music selections to enhance fall's cozy vibes. Themed favors like mini pumpkin candles or personalized apple butter jars add a perfect touch to your big day.
Tips for Unpredictable Weather
Unpredictable weather can create a challenge for fall weddings. If any part of your wedding is outside, a contingency plan for rainy or significantly chilly weather is essential. When establishing your plans, ensure vendors can accommodate weather changes by verifying weather-related clauses in contracts. Communication is key for a smooth transition, if needed, before and during your wedding.
Hollywood POP
At Hollywood POP, we love gorgeous autumn weddings. With a passion for events and tons of planning expertise, we specialize in crafting glamorous occasions that radiate timeless elegance. Contact us today to discuss your dream fall wedding.