How To Save Money on Your Wedding
No matter how you slice it (and we hope it's with a cute cake topper, an alert photographer, and a gorgeous spouse), weddings are expensive. Sitting down to prepare a wedding budget can make even the most relaxed couples start to sweat. Whether the bill is being paid by the parents of the bride, parents of the groom, or the couple themselves, researching how to save money on your wedding is an important step is the wedding planning process.
After the champagne bubbles settle and the phone calls are made, newly engaged couples begin wedding planning in a variety of ways. In many cases, preparing the guest list is the best first step, as the number of attendees will impact everything from venue choice to catering to invitations and more. Once you put pen to paper on details like guest list, ideal venue, dream floral arrangements, and the perfect menu, budgeting becomes a major factor.
As we dive into some of the most practical was to save money on your wedding, remember that every couple is different. While some brides will place a large chunk of the budget on their dress, others will prefer to put that money towards an incredible band. No matter where your priorities lie, there is a wedding budget that works for everyone. Let's dive in.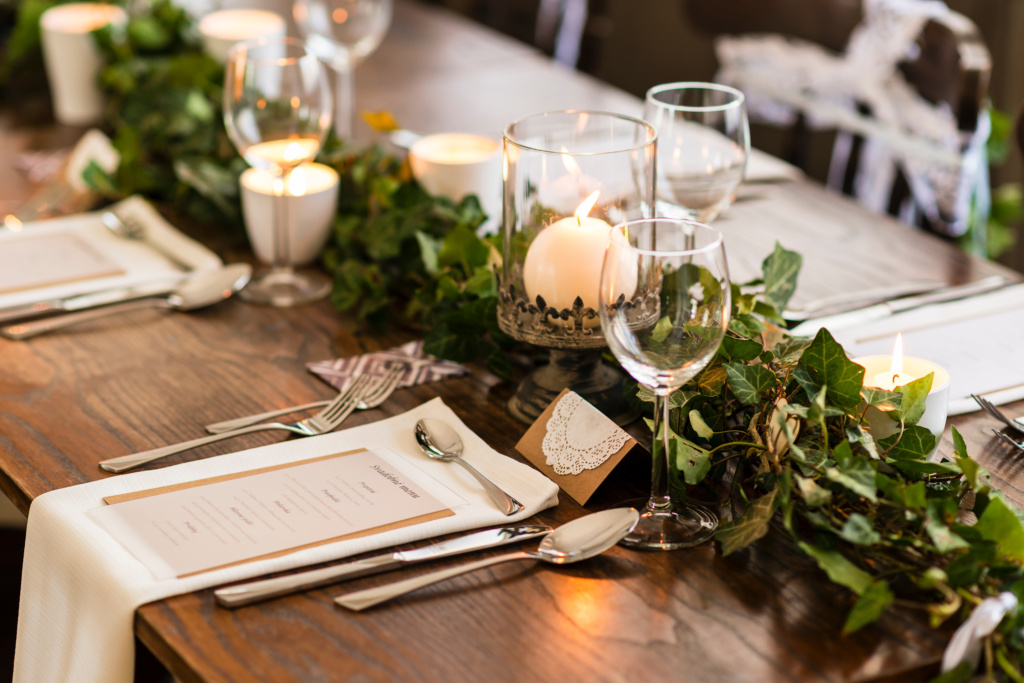 Saving Money on Wedding Flowers
Florals are extremely important when it comes to wedding décor and the overall aesthetic of any couple's dream wedding. There are a number of creative ways to save some wedding budget on florals. Consider any of these options:
Order in bulk and keep it to 3-5 types of flowers
Think about leaning on greenery instead of blooms
Change out pricey flowers for comparable, less expensive ones
Buy from your local florist
Stick to in-season flowers
Executing just one or two of the above recommendations could help shave hundreds of dollars off of the big day.
How To Save on the Wedding Reception
While watching a couple exchange their vows is beautiful, the majority of wedding guests are in it for the reception. Dancing, drinking, eating, and enjoying everyone's company is the perfect way to start any marriage, so the reception has to be wowing – but it doesn't always have to be expensive. Here are a few easy ways to bring the cost of your wedding reception down:
Consider an off-season or a shoulder-season
Forget about Saturday night and party on Thursday, Friday, and Sunday
Cut down your guest list
Have the ceremony and the reception at the same location
Saving money on your wedding means really thinking through what is and is not important to you. Reimaging the reception on your dream day will make a big difference in the final bill.
Saving on Wedding Entertainment and Photography
Entertainment on your wedding day is one of the most critical decisions that a bride and groom can make. The entire evening hinges on a level of fun that directly correlates to the entertainment that you hire. So, this decision cannot be taken lightly. However, it can be made with budget in mind. While you may have dreamed of a 12-piece band, trimming that to 6 or 8 will really help in keeping wedding costs down.
Dancing all night is important, but capturing those moments may be even more important. Skilled photographers and videographers come at a price, as they should. So, considering hiring an associate from a reputable photography company. Well-known vendors will often have associates who they recommend and that will save a big chunk of change.
Food, Drink, and Dessert
Wedding guests often just the wedding reception based solely on the food. Whether fair or not, catering is a part of the big day that really needs to be strategic. First and foremost, be sure to order enough food. There is nothing worse than cocktail hour ending due to a food shortage instead of the hour being up. Avoid items like sushi that require special staff to prepare.
The bar can get expensive quickly, but we do not recommend a cash bar in any circumstance. Instead, you can save money by coming up with one or two signature cocktails in addition to beer and wine.
Finally, there's no need to go crazy on a multi-tiered wedding cake. Instead, opt for a one or two-tiered cake, take the quintessential photo, and then have a sheet cake in the back to feed the wedding guests. Plus, we recommend going with a classic filling instead of a more exotic one to save some extra money.
A Wedding Budget That Works for You
A dream wedding doesn't have to break the bank, but the reality is that weddings are expensive. While the above pieces of advice will certainly trim the budget, keep in mind that a bride and groom with a specific vision will need to start saving right away.
Staying within a wedding budget is difficult. Once the planning begins it is easy to go crazy. However, hiring a wedding planner can make all of the difference. At Hollywood POP Weddings, our team of planners and artisans go above and beyond. We approach each event as a blank palette, putting together all the necessary details from venue selection, invitations, specialty cocktails, music, menu, design and décor.
We take care of every detail from creation to installation and ensure that each client's vision is brought to life, delivering the WOW factor with flawless precision. Let us take your celebration to the next level.